MACROS 101
Get to know your calories.
"Macros" is short for "macronutrients," and the three macro types we eat the most are Carbohydrates, Fats, and Proteins.
Minding our macros can be the key to reaching different health goals.  Shedding a few pounds, maintaining a healthy body weight, or gaining muscle mass – it's all a numbers game.
So, what are YOUR health goals?
PERSONALIZED MACROS
Your recommended daily
macronutrients for:

Bulking
TDEE (Total Daily Expenditure)

2,500

Total Daily Expenditure (TDEE):

Basically the calories you burn everyday.

Cut Calories (20% reduction from TDEE)

2,200

Carbs (g)

193

Fat (g)

75

Protein (g)

200
Need macro-balanced recipe inspiration? 
Download our FREE macro-friendly cookbook containing the top 101 recipes from our food content creators!

+ Carbs
Our bodies break down carbs for immediate energy or stores them to be used later.
+ Fat
Needed for energy and other critical functions, fats are the most calorie dense.
+ Protein
Proteins are vital for immune function and building of tissues, hormones and enzymes.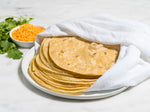 Buy Online
Protein Tortillas
Try Counter's high-protein low-calorie tortillas that taste and bite like a REAL tortilla!
Shop Now